Sablon (Belgium)
Just like Mini-Dinkys having a problem of disintegrating, Sablon has a problem -- with its tires (or tyres for my UK and Australian friends). I have never seen a Sablon without melted tires. Truly melted. Like you had taken a blow torch to them. If you do have one without the tire problem, it's worth its weight in gold. Okay, maybe not. But it's worth more than the usual Sablon.
It's a shame, because the Sablon I have (a Renault 16) is actually quite pretty and detailed. It has a very a hood with such narrow cut lines you can't even tell that, yes, it does open -- as does the hatchback and all four doors.
And melted tires/tyres.
On the models page of the NSU Club Nederland, they state that a Nacoral model of an NSU Ro80 is the "Same as Sablon, Inter Cars on box." This suggests to me that there was some mold swapping -- more than likely, Nacoral picked up the dies from Sablon. Does anyone know the history?
Updating that though, I discovered a car for sale on Ebay that's very interesting... it's a BMW 1600 that is marked on the bottom "Nacoral Inter-Cars, Made in Belgium." That suggests that a) Sablon made cars for Nacoral or b) Nacoral took over Sablon and at least initially continued making the cars in Belgium. Verrrrrrrry interesting...

Bottom of Nacoral car made in Belgium
Sabra/Cragstan/Gamda/Gamda Koor (Israel)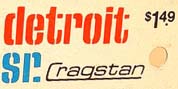 I swear that someone must have found a warehouse full of these models mint and boxed -- because they are on Ebay all the time. At least some of them are. Some are easy to find (the Chevelle wagon, Impala), some less so (the Mustang), and some are downright had to find (Pontiac GTO, Corvair, Imperial convertible, Barracuda, and all the rest).
I have an Imperial and Impala that are marked on the bottom "Gamda Koor Sabra," a Mustang marked "Cragstan Detroit Senior," and a Chevelle wagon and Toronado marked "Cragstan Detroit SR." So take your pick. All the boxes (besides the Imperial, which doesn't have one) say "Sabra Super Car, made in Israel by Gamda Koor Export Ltd."
I've found a couple of bulletin boards online which refer to information from a box (Andrew G. Ralston, "Model Cars from Israel: A History of Gamda, Sabra and Detroit Seniors." Perfect reference! Unfortunately, I can't seem to find it anywhere. He presently has a book on Hong Kong cars which everyone seems to be selling, but I can't find this book even used. Anyone know where I can find it?
At any rate, here is the information purportedly contained in this book? The name Gamda was used for marketing purposes by a kibbutz (what we would call a commune, more or less) by the name of Kfar Hanassi. Apparently they used molds from England (from DCMT/Lone Star to name one company, according to many sources). A takeover from a company named Koor resulted in the name Gamda Koor. At this point they released the cars we are most familiar with in the mid-60s as Sabra. I have heard that one foreign car was in the series, a VW Beetle, but I'm not sure that I've seen one for sale. Later Gamda was taken over by an Israeli concern called Koor (one source names this as owned by the Israeli trade union, the Histadrut). In the later sixties the American firm Cragstan (the company that was famous for importing Japanese tin toys) marked the toys.

Chevelle station wagon (8100)
Chevelle ambulance
Chevelle Fire Chief (8106)
Chevrolet Impala (8103)
Chevrolet pickup
Chevrolet taxi (8116)
Chevrolet police car
Chevrolet Imperial (8111)
Corvette Stingray (8105)
Oldsmobile Toronado (8109)
Plymouth Barracuda
Cadillac convertible
Cadillac (8110)
Ford Torino
Ford Mustang
Ford GT (8104)
Pontiac GTO
Pontiac Firebird (8119)
Volkswagen
Buick Riviera
Camaro SS
Thunderbird
Dodge Charger
Corvair (8113)
Saci (Brazil)
I believe this is prouunced sa-see. Saci is another one of those phantom companies that's nearly impossible to find anything out about. I have a 1:66 Saci Modulo Pininfarina (No. 2) which is either a copy or was made from the dies of the Corgi Jr. version.

Saci Modulo Pininfarina (along with original Corgi version).
Safir (France)
Schabak (Germany)


Although mostly noted for their airplane models, you will also find German cars modeled by this company. Instead of just moving around some words, I will quote an abridged verison of Schabak's history, as noted on their Web site:
"On September 5, 1966, Max Haselmann, Gerhard Hertlein, Horst Widmann and Wolfgang Stolpe, founded SCHABAK as a small, rather local wholesaler, offering miniature-cars to the German car-dealers. This is still an active department of the company which is today under direction of Horst Widmann.
"Our roots began as employees for Schuco-Toys, an old, well known German toy manufacturer. Here, many contacts with the airline industry were established. When Schuco disappeared, an initial lease-agreement with the successors for some of the toolings led to the start of SCHABAK.
"...Another tradition of 'good old Schuco times' is the making of miniature model cars. Beginning with the 1:43 scale, later expanding to the 1:24 scale models, an exclusively German Car range of models was launched and maintained until today.
"...This complete range of fine model cars include models from the 1980's, up to today's Volkswagen and Audi Cars, a large range of European Ford models from the 1980's to the early 1990's, today's range of BMW, highlights from Mercedes including the S and SL-Class and the classic Porsche Carrera. Typical features are doors, hoods and trunks which can be opened, exposing detailed interiors.
"Limited just to 15 basic cars, the SCHABAK 1:24 scale models have been a milestone in today's market of the 1:18 collector cars. These models are detailed and of high quality. Some of the special features of this range are the precise working steering system made from 8 different parts, and rubber tires."
I have a really nice 1:24 BMW Z1. The doors drop down (like on the big car), the trunk and hood open, and the tires a soft rubber. The only thing marking the car is the fact that although the windshield is curved, the frame is not, so it has an odd look.



Shabak one sheet (Adobe Acrobat needed)
Schuco (Germany)


Scottoy (Italy)
These great cars are a bit tough to get in the U.S. -- harder still with the atrocious Euro-Dollar conversion, and then having to pay for shipping.
Scottoy started making copies of older Mercury (Italy) models using the original molds, but they've branched out into some other cars including some made in conjunction with Brumm. You can visit the Web site (and look carefully, there IS an English translation after the Italian, but it isn't readily apparent at first). The model lines are Scottoy, TelModel, Mercury2000 and Brumm-Scottoy. A catalog is available.
SE Modell (France)


The box of my SE Modell (a 1958 Borgward Isabella Kombi) says "Made in France for Solido - GmbH - 90403 Nurnberg, Germany." That tells me that it was made after 1996, when the German concern of Triumph-Adler AG took over Solido. My model is resin -- very light, but with excellent paint and detail.
I'm not sure if Majorette (current owner of Solido) is still manufacturing under the SE Modell name.

SE Modell Borgward wagon
Siku (Germany)


Luckily I was lazy about starting my research for Siku, because before I could start, Jan Clevering told me about Sikumodels.com. Stop by the Web site -- but make sure you've got the time, 'cause you'll be there for a while!

Siku box
Smer /Mikro Auto (Czech Republic)



Copyright 2013 by Keith Bickford. All rights reserved. No portion of this site may be reproduced without written permission. Quoted passages remain the property of respective authors.